What packraft should I buy?
What Packraft Should I Buy?
This is the start of a conversation I have alot. It can be tough to know if a manufacturer is well designed and built or whether you're just paying for brand. Even if you pick an manufacturer there can be a plethora of different options, how do you know where to start?
Lucky for me it's conversation I enjoy having! Packrafting Queenstown are in a unique position in that we are the only packrafting operator in the country that doesn't have an affiliation with one brand or another so the advise we dispense is unbiased by commercial interest and based on extensive research. When I first started guiding Packrafitng trips in 2012, we used Alpackas and we had a really good deal with them as a supplier. Other brands approached us but we never really gave them much scrutiny as we were happy with the boats we had. Fast forward a few years to when Packrafting Queenstown went out on it's own and we no longer had a trade deal with any manufacturer and were forced into doing our due diligence with different suppliers. We've had kokopeli Rogues, Nirvanas and Twains, MSR, Frontier, Ko Aro and Blue Duck. And of course we've paddled a lot of Alpackas.
So before you get stuck into brands, it is important to decide what sort of Packraft you'll need and what you want to do with it. Unless you're about to get into Adventure Racing or bikerafting, the majority of people I speak to aren't 100% sure where there packrafting journey is going to take them, the concept is the enticing enough to want to find out!
The All Rounder
What we were looking for in a boat for our fleet was something that was going to stand up to the constant use and abuse of guided trips, capable enough to deal with the whitewater of our courses and versatile enough to be used as part of our rental fleet. In other words we weren't looking for a specialised boat, we wanted the ultimate all rounder. This is what a lot of folks are after. So what makes a good all rounder?
Our journey saw us trial most basic models of every manufacturer. We wanted something that was easy and simple so we initially looked at "bucket boats" (or solid floored boats) with a cruiser deck to keep a southerly wind off and keep us a bit warmer at the beginning and the end of the season. What we found was the cruiser deck are the most fragile part of the boat and after heavy use we saw signs of ware and tare. Plus they didn't keep us that much drier so it seemed futile. The kokopeli offered incredible value and we loved the idea of a heavier duty floor and the hull shape is super stable and wide across the hips as you paddle. The downside was that they were slightly heavier and didn't pack down as small as the alpackas. This was true of every single manufacturer so in the end we ended up going with the more expensive alpacka classics. The TPU material used was superior to the MRS boats too.
What about whitewater?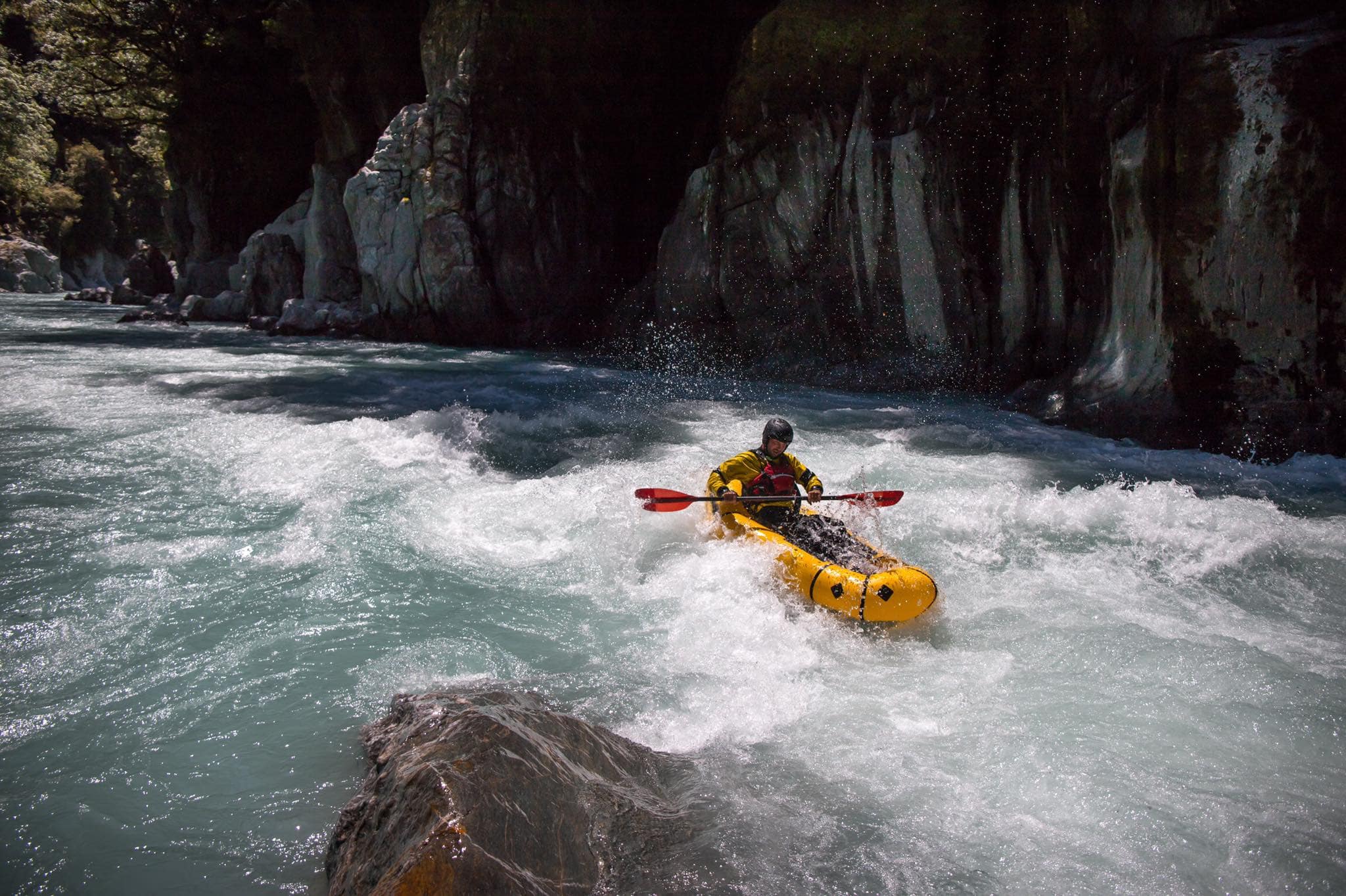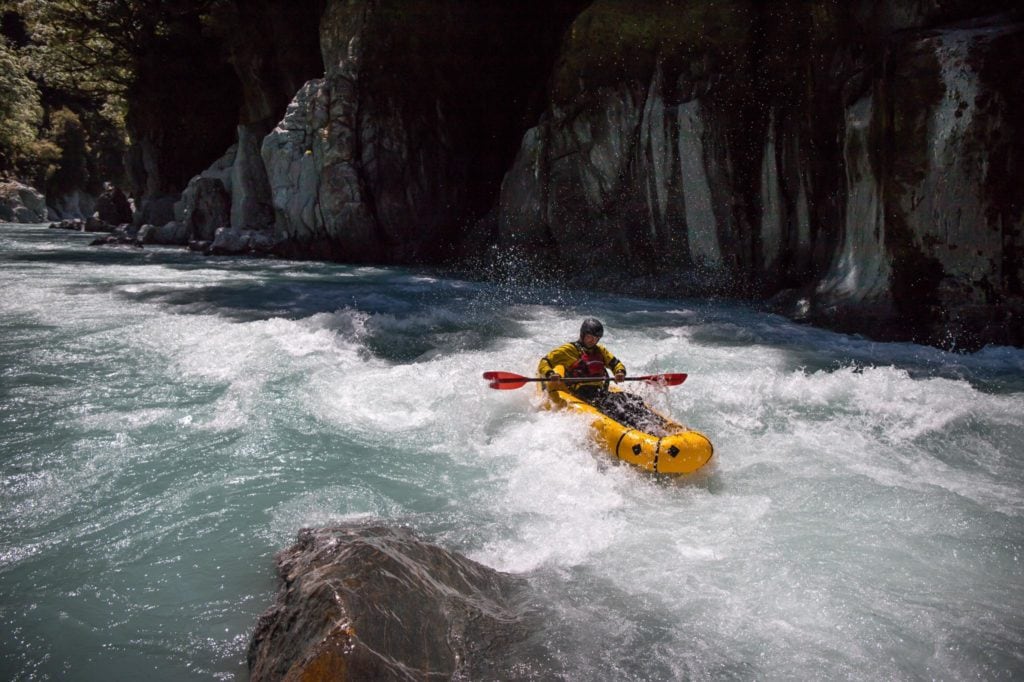 But the journey didn't stop there because I still wanted a personal boat to go play in. Not the classic isn't super capable and I was already paddling grade 3 in it, but I wanted to see what a Whitewater set up felt like and I wanted to try some new features that were coming out.
My first thought was getting a WW decked boat. The idea was to stay dry (ish), keep the water out of the bottom of the boat and feel like I'm in my kayak…. Problem was that the deck was a big of a pain. Still the most fragile part of the boat and the most likely to break, plus now i gotta take this bit of combing into the backcountry with me. That's a bit annoying, but maybe that was the price for staying dry… only it didn't keep me that dry…. plus if i wanted to adjust my thigh straps (which are game changers, more on this later) I had to take the skirt off and put it back on again…. plus now if i go out paddling with anybody else (clients of otherwise) they'd have to wait for me to sort out my deck before we start paddling anywhere. Not a good look as a guide. I was already starting to creep into the self bailing camp (i mean if you're not dry anyway, what's the point right?). Then there's the scouting and re-entree. The beauty of packrafts is their simplicity, I want to be able to pull into some obscure micro eddy, quickly stand up to check my line then sick down and send it. What I don't want to do is drift out of the back of that eddy with my paddle on my lap and my hands scrabbling at the back of my deck whilst i get it in place at the back. This clearly wasn't the quiver killing whitewater boat I was hoping it was going to be. Plus I wasn't sure about students, who have so much to focus on and think about already, having to mess around with a skirt when they flip, attempt a deep water re-entry or a peer rescue. I was a full self bailing convert. And I'm based in Queenstown and I paddle in the winter. I've never found the self bailers to be cold. A high quality, light weight dry suit makes the world of difference too, but that's a different blog post.
Outfitting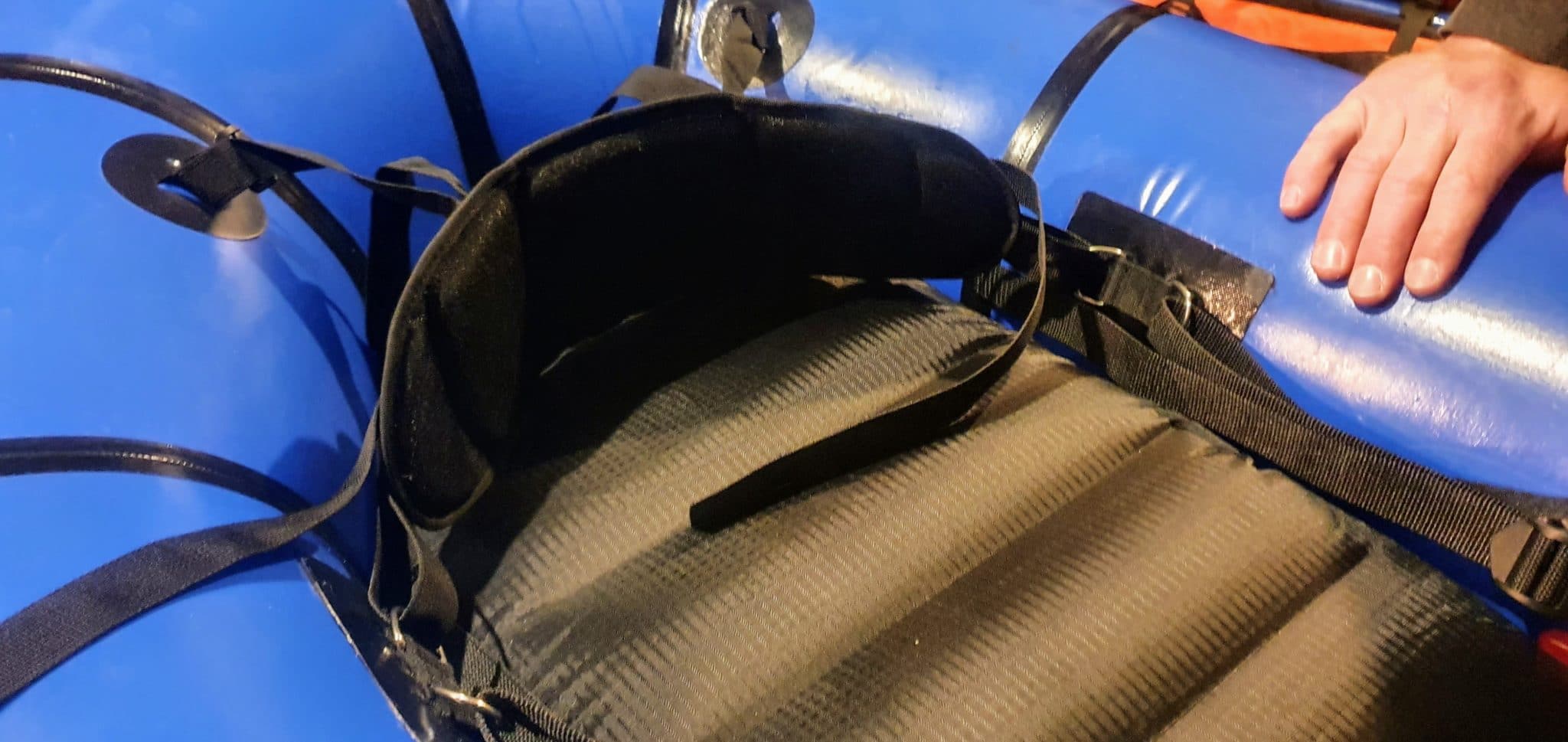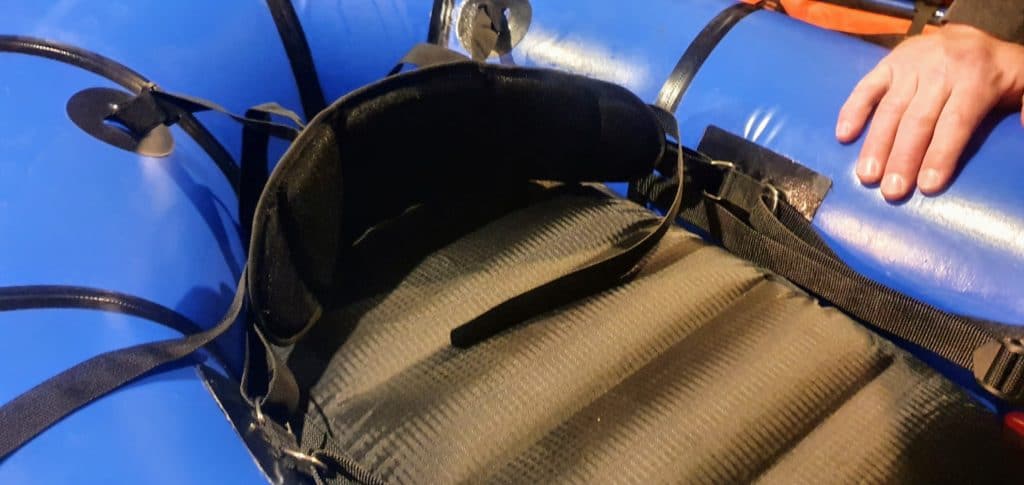 I can't emphasise enough how much of a difference a good back band and thigh straps make to your paddling. For those new to the sport, outfitting might be a new term. Essentially it's all the adjustable parts of the boat that make a difference to how it fits you or how you sit in the boat. This includes foot braces (especially if you can't comfortably reach the end of your cockpit), thigh straps, the back band and even your seat. In a nutshell, the more connected to your boat you are, the more in control you'll be. I've heard the difference good outfitting makes likened to running with your shoes laces un-tidied or using cleats when cycling. It allows all the effort you're putting into paddling to me efficiently translated into movement of the boat. More importantly it'll help you advance you paddling skills more than anything else. Edging, craving eddy turns, boofs are all but impossible without it. Even if you have no ambition to go looking for harder whitewater, mastering some of these skills is important and will help you swim less and keep you safer. Prevention is better than cure. Ultimately, spending time with a professional instructor will make more difference to your paddling than anything else and may be the best money you spend in your packrafting career.
When buying your boat for the first time, this doesn't have to be fitted immediately, Alpacka retrofit their boats or if you prefer not to ship it across the world, we can install thigh straps, ti-zips, self bailing floors etc. The Kokopeli boats have heaps of adjustability in their outfitting so it makes it a versatile fit or a brilliant "second" boat for your mate as it can be adjusted to fit a wider range of humans than other boats I've paddled. Alpacka and Blue Duck have given their seating position a great deal of thought and have superior thigh straps to kokopeli, but there's nothing stopping you form installing Alpacka components on other boats or vice versa.
It's worth noting that you don't need to go straight for some of Alpackas whitewater series boats (like the Gnarlwhal, or Wolverine) to enjoy good outfitting. A classic with good outfitting is capable of handling some pretty serious whitewater. In fact I'd advise new paddlers to avoid the more playful and less forgiving Wolverine or Expedition that Alpacka make as they the narrower tubes make them more edgy but more like a kayak to paddle. If you feel like you really want to progress, retro fitting good outfitting is an awesome way to prolong the life out your boat and stop you "growing out of it".
Ti-Zip
Get one. It's that simple! They keep the decks of your boat clean and more free of entrapment hazards by storing your backpack inside the boat where it is going to stay very dry. So from this point of view it is less likely to lead to any complications should you swim (nothing more heartbreaking than climbing into a wet sleeping bag at the end of the day!) but crucially ti-zips help prevent swims in the first place. The lower centre of gravity means you'll be carrying your load much closer to the fulcrum and are therefore more stable. Couple this with improved visibility and you're onto a winner. The downside? They need a bit of TLC, ensure they are lubed and clean, hardly a chore. I'm a huge fan.
Adventure Racers
Full disclosure I'm not an adventure racer. The purpose of my adventures is very rarely to get home as fast as possible, however I've worked on events for many years including helping to run safety for GodZone and trained a few teams so I've had a pretty close up view of how things go down.
A quick bit of desk research will show you that a double weighs less than two singles. If that's not reason enough to get a double for adventure racing, bare in mind that the top speed of your boat (irrelevant of technique, strength or efficiency) is dictated by the length of your hull at water level (boat speed = 1.34 x the length of your boat at water level, because science).
I have been incredibly impressed with the design of the Blue Duck adventure racing boats. As far as I have been able to ascertain, they are the only doubles that are self bailing which means they won't fill up with water and get super heavy. It's not just me who has been impressed but Nathan Fa'avea who was waxing lyrical about the boat when he started the paddling leg of Eco-Challenge in 5th place and finished in 1st.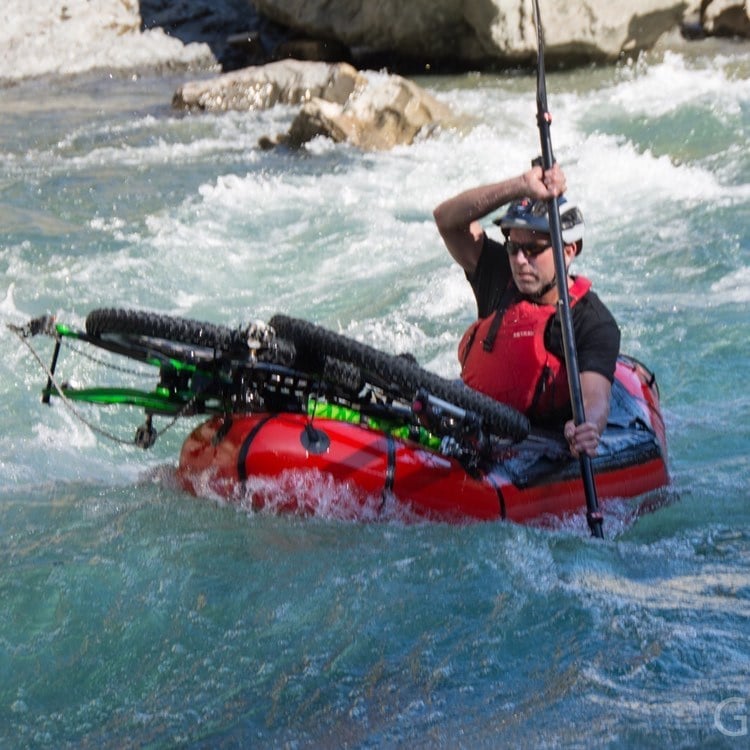 There's only one manufacturer designing a boat especially for Bikerafting and that's Alpacka's Caribou. It's features are well thought through with a longer hull allowing you to keep the boat far away from the catch phase of your paddle stroke and extra volume in the bow to compensate for the extra weight of the bike. It's so well designed.
That said, Deane Parker, one of the world's most prolific bikerafters uses his trusty whitewater boat for his missions so there's nothing to say your "All Rounder" wouldn't be able to handle a bike on the front if you know what you're doing.
Final Word
Stu Bilby who completed a South Island traverse with his packraft out it nicely when he remarked to me that all packrafts are good value. As a rule of thumb you generally get more bang for you buck if you're willing to pay a bit more. A cheap boat won't hit you hard in the pocket… but you can expect it to have limitations. Good work ain't cheap and cheap work ain't good.
For me I think the kokopeli's offer great value and are very versatile first time boats, perhaps they are missing a high performance boat but they are solid boats, especially for road side runs or as a spare boat for your mate. They don't pack down quite as well as alpacka and weigh a bit more, but that's the compromise you get at the price point.
Blue Duck are breaking away from a lot of the Alpacka imitations and have come up with some innovations in hull shape, floor positions and even sort of venturi value system on their self bailers. There's a great deal of thought and experience gone into the design… but again they probably don't pack down as small as the alpackas, but what you do gain for this bulk is some robust heavier duty material.
Alpacka's are still the yard stick by which everything else is measured. Yes there is a premium but it's not all hype. The shipping is a killer as is the GST when it lands but these are a buy once, cry once purchase that holds it's value incredible well.
There are of course, new designs and brands surfacing all the time. I'm particularly excited to see BAKraft's displacement hull, the new sterns on the whitewater boat that Alpacka have in R&D stage and I'd still dearly love to see how far a Klymit packraft can be pushed! As always I'm happy to have a yarn on the phone or email. I don't sell boats, I don't get commission, I don't have a dog in the fight… but i have paddled a fair few boats now.