Set departure Overnight Packrafting Adventures run through the season that are open for all to join. If you would like to put on your own adventure, we just need a minimum of 4 people to put on exclusive dates. Contact us with enquiries.
Extended periods of time are where packrafts really come into their own. The aim with this trip is to curate the perfect first time packraft experience, but with a more immersive feel.
We'll hike through a pristine wilderness flanked by hanging glaciers and native forests, paddle down gin clear water and then camp near our private hut for the night. The next day we'll hike again, but this time to a more sporty section of the river for a bit of gentle whitewater training before carrying on down stream back towards civilisation.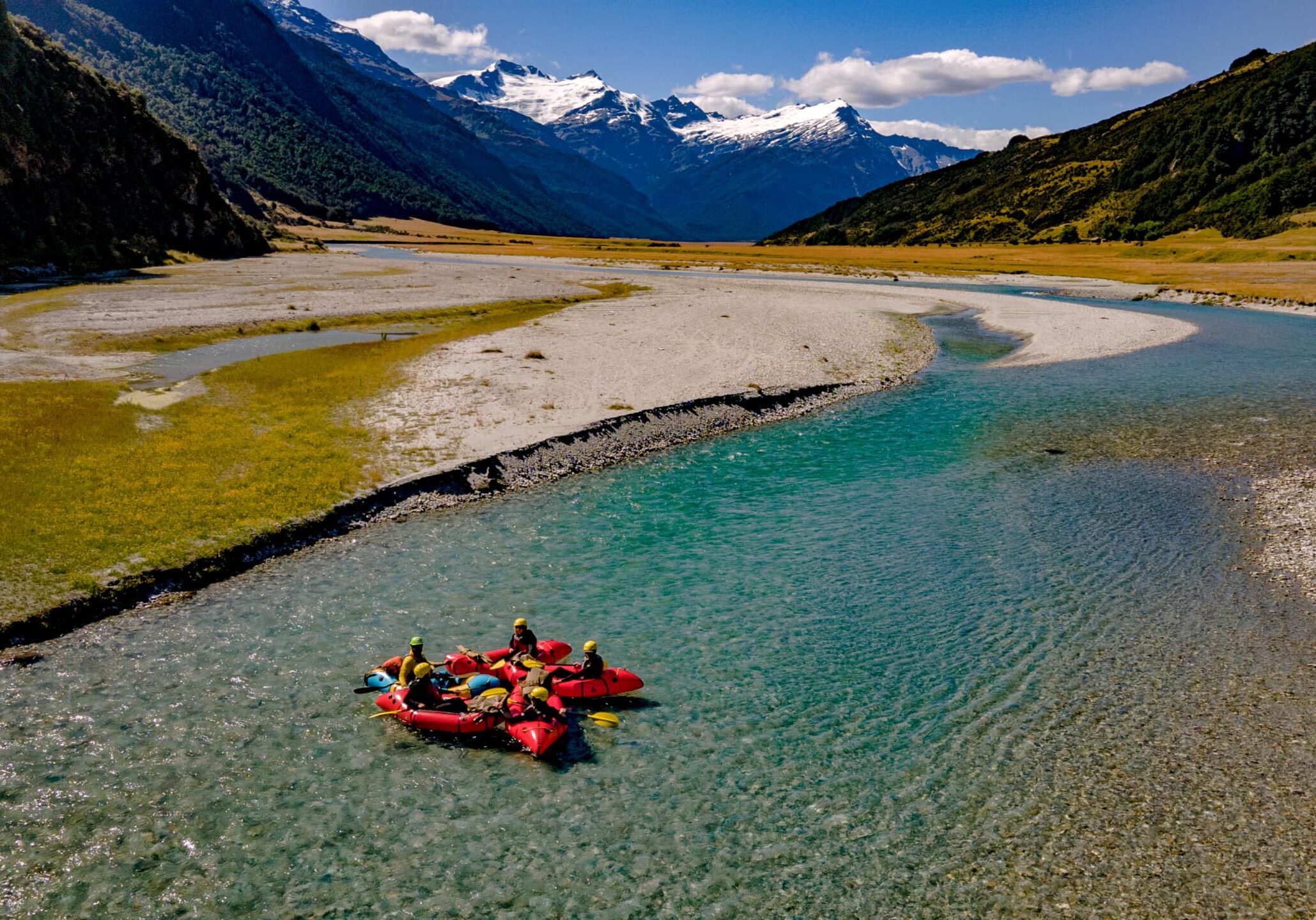 Our overnight adventure in the Rees Valley is an all natural mind & body rejuvenation package...
Sports scientists call it active recovery, we call it chicken soup for the soul.
Our trip starts in Queenstown before we roll down the road towards the head of Lake Wakatipu. This is our last bit of cell phone reception for a couple of days before we keep driving until the road runs out and our adventure begins.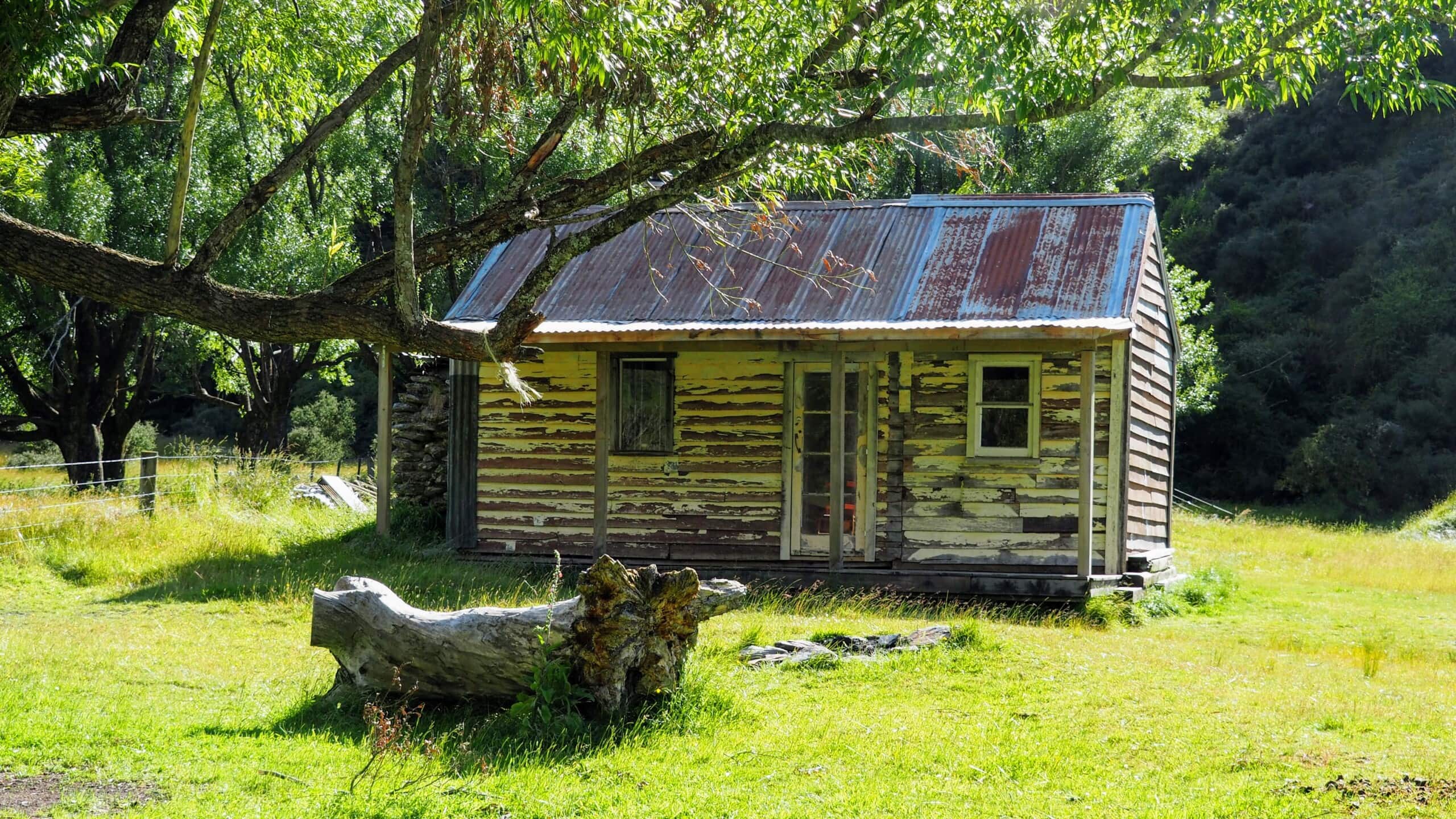 Day 1
We have an unhurried start to our trip as we ready our packs and set down our overnight gear at our campsite for the evening. We're fortunate enough to have access to an amazing hut with camping areas surrounding it exclusively for our use in the evening. Starting the trip here means we need only take the gear we need with us for the day, keeping our bags as light as possible as we begin our exploration by foot through the stunning Rees valley.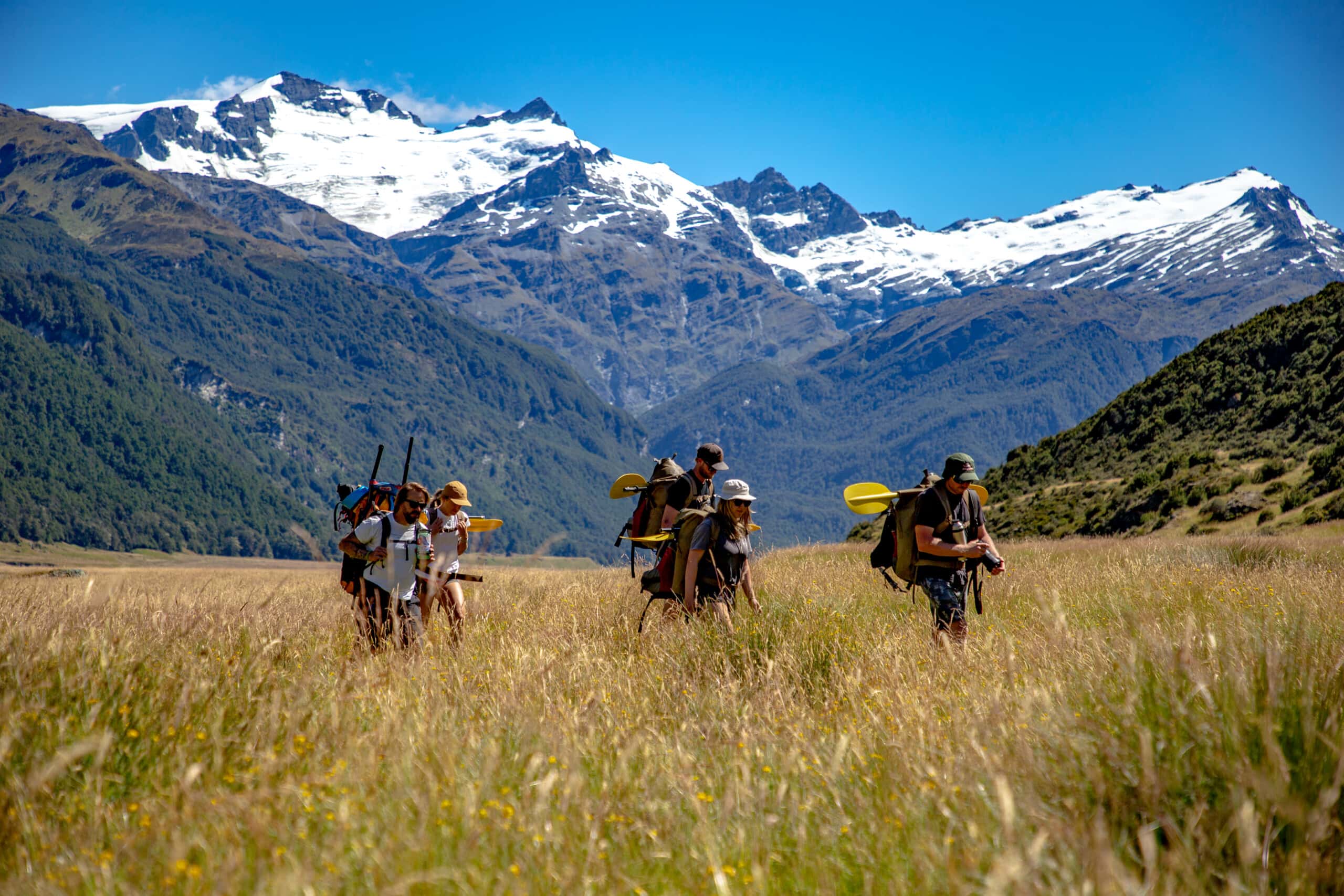 We follow a walking track for some time, before leaving the beaten path and cruising up the river flats, crossing the river as we go. It's unlikely that we'll see any other people, but we will share the valley with deer, cattle and sheep, who are lucky enough to spend their summers on this picturesque high country station.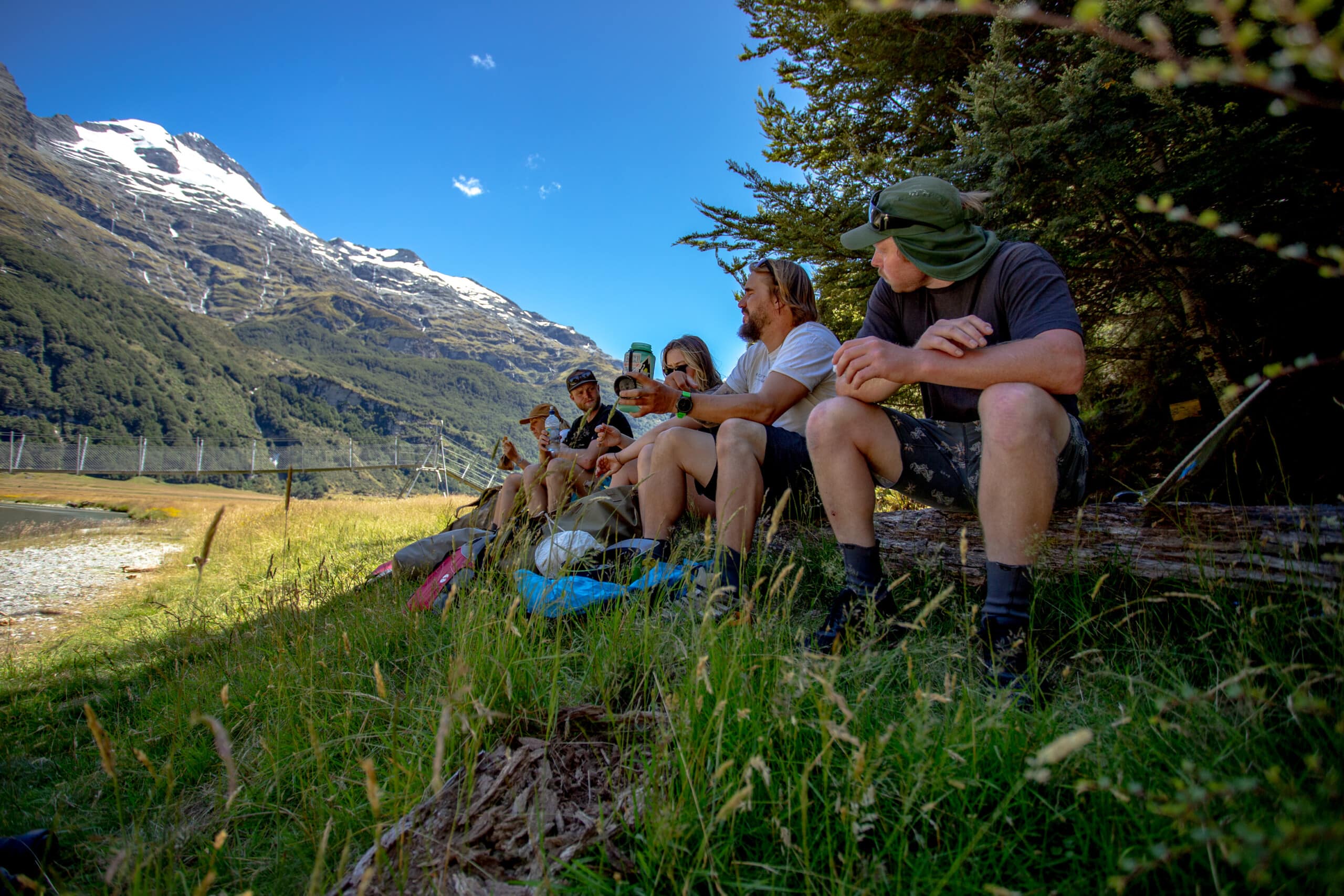 Refuelling is half the pleasure of exercise, so we'll carry a big picnic lunch. And there's no better place to enjoy it than opposite a 175m waterfall!
After Lunch we can walk a little further upstream to the edges on the Mount Aspiring National Park, where the first major tributary flows in the Rees River. We'll blow up the packrafts and the real magic begins.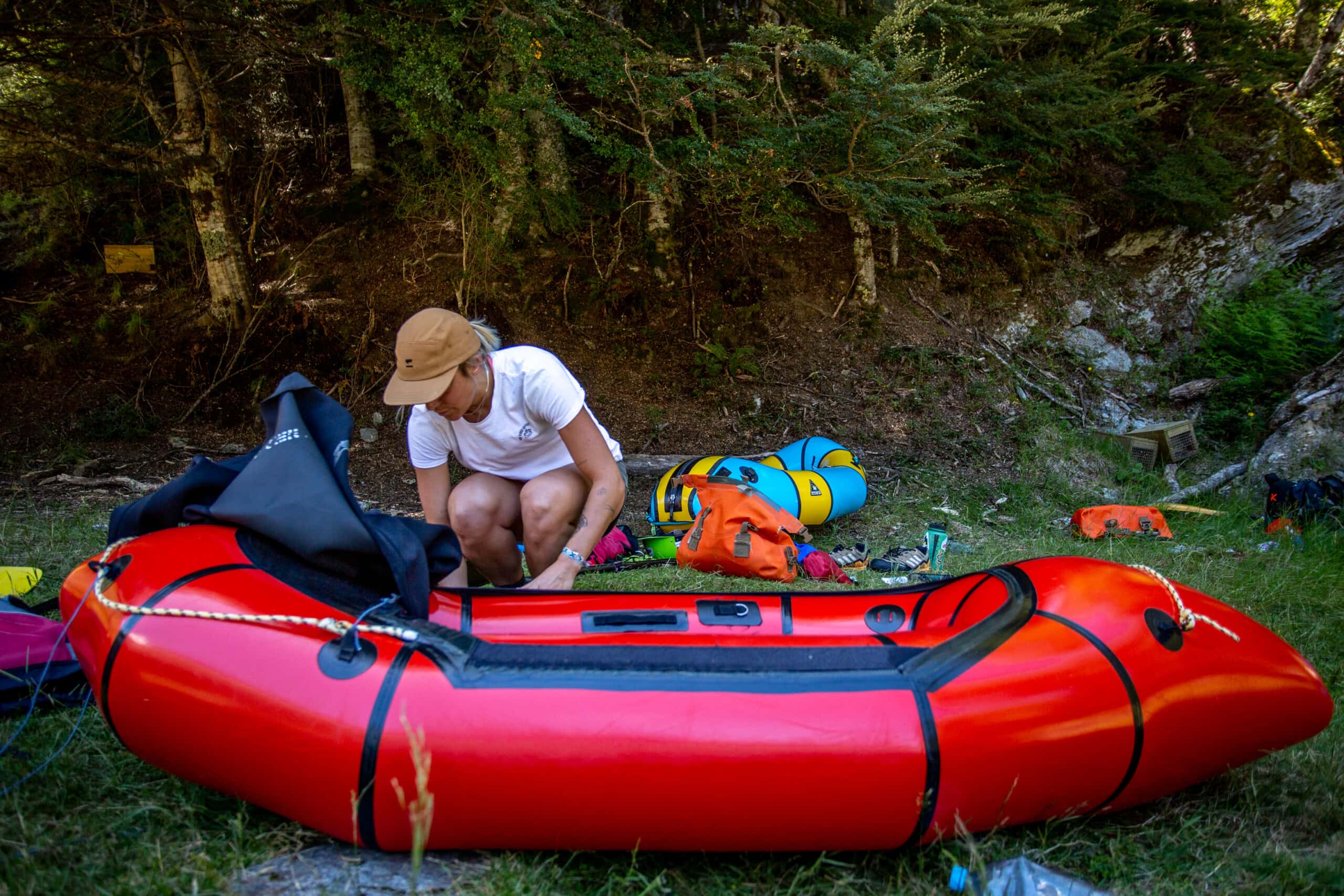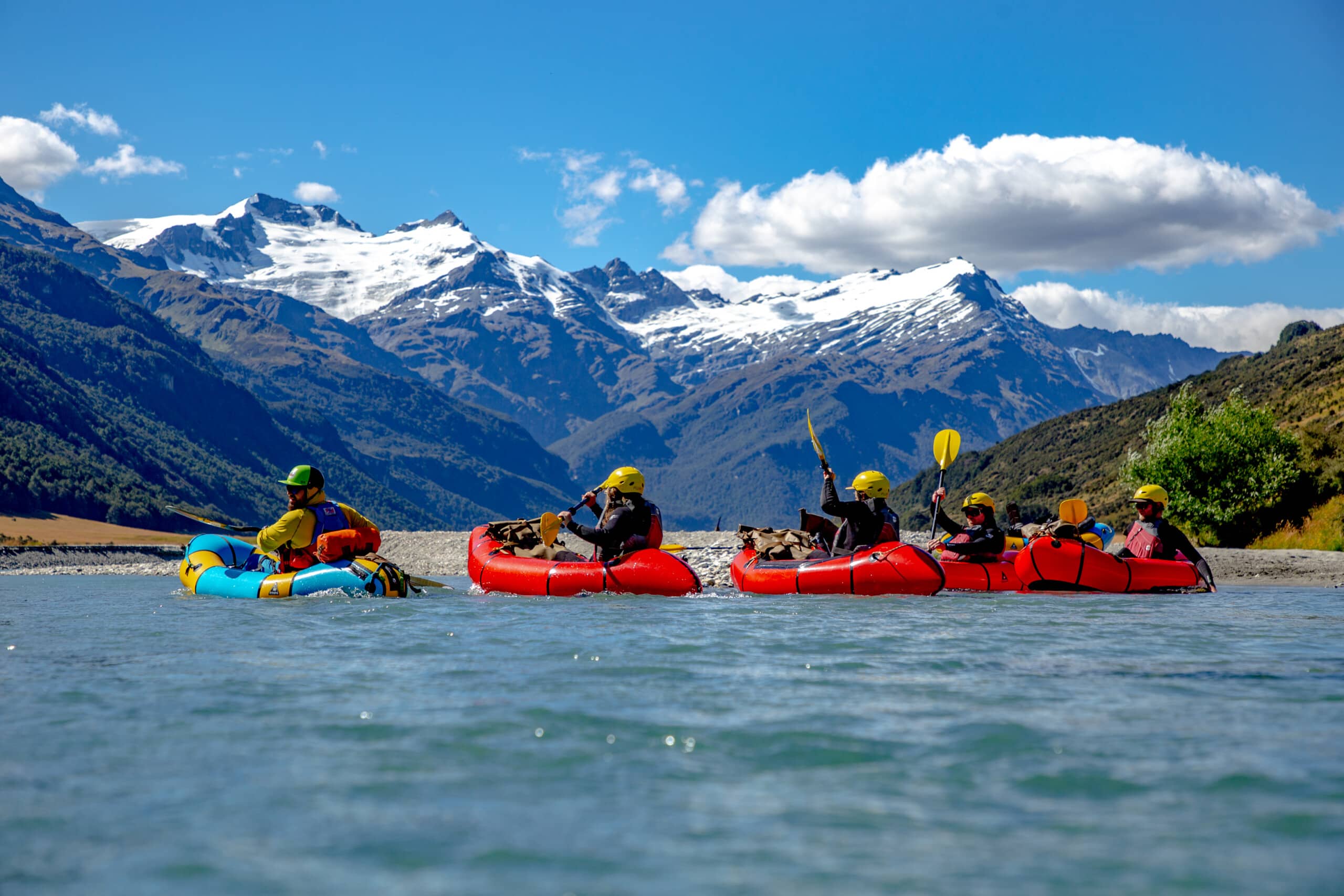 Our hike has taken us around 2 hours or 8-9km and our paddle usually takes about the same. Theres some great opportunities for side quests exploring some otherwise unreachable canyons before we drift back towards camp.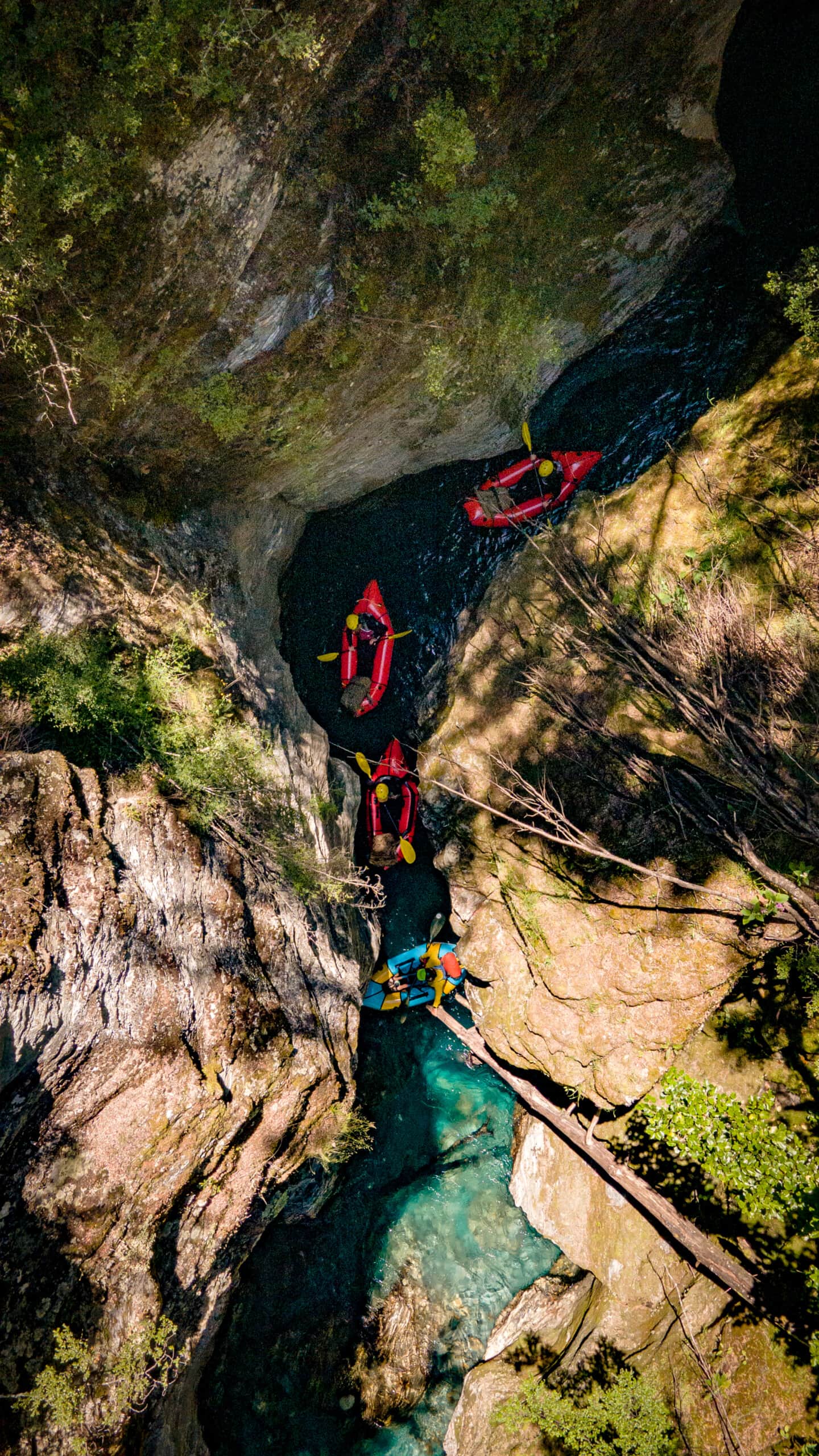 Setting up a happy camp with drying lines, tents and dinner bubbling away concludes day one. The time in the evening is yours to be in this supremely relaxing environment. You're very welcome to bring a couple of beers or a glass on wine to enjoy whilst soaking in the serenity or swapping stories and spinning yarns in the hut.
Day 2
It's rare for anyone to be a hurry to leave camp in the morning and so we'll have a little breakfast, sip a little coffee before breaking the camp and starting our hike out of the Upper Rees valley.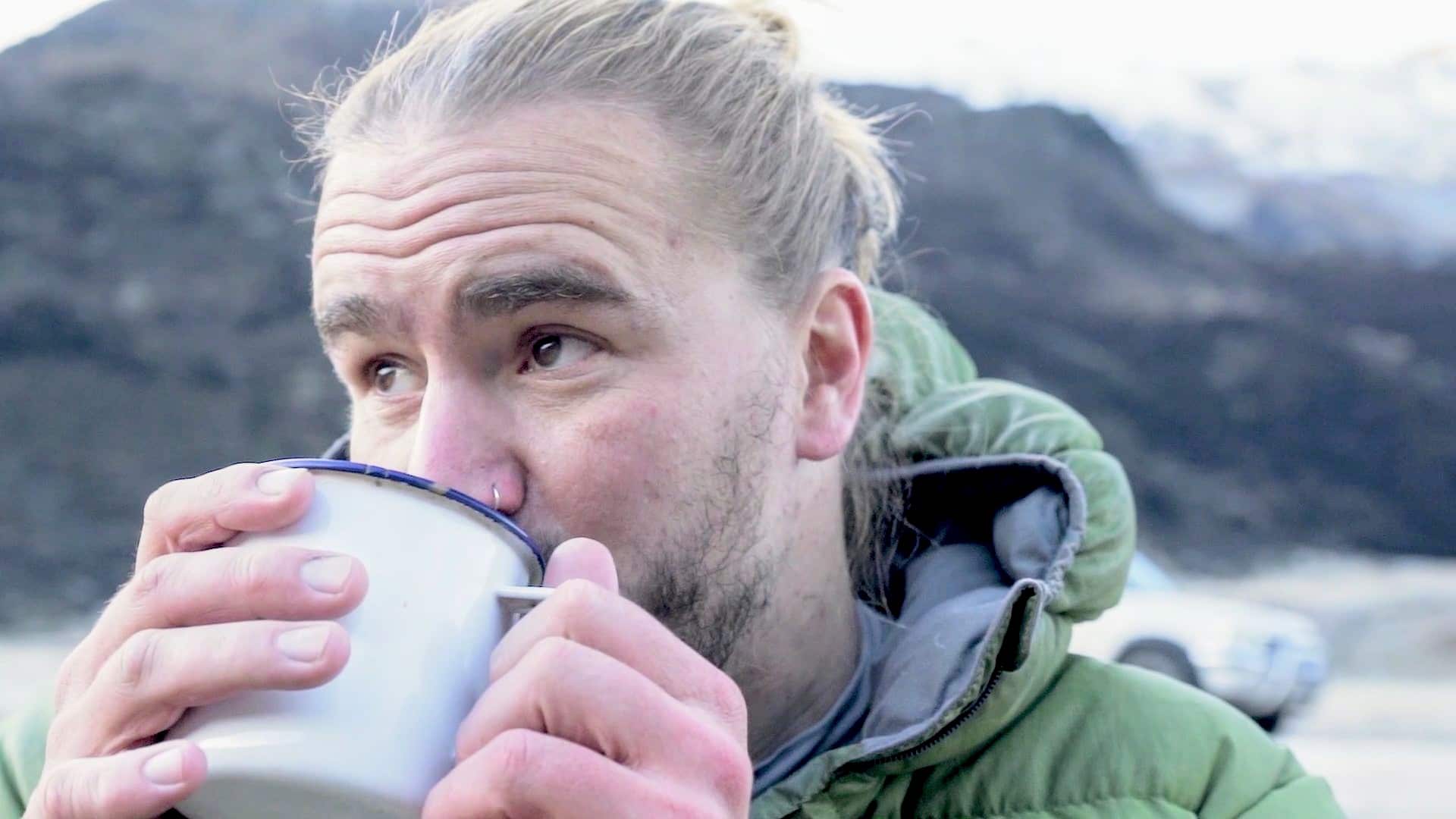 The next section of our packrafting adventures sees us taking on some of the Grade 2 rapids downstream. A short walk to our training area allows for the sun to get a little higher in the sky before we blow up our boats, ready to get wet again.
Given that you'll be in your own rafts, learning how to manoeuvre them in this whitewater is the key to success. We'll spend some time making sure everyone is comfortable and under control before we splash, giggle and bounce our way down the river!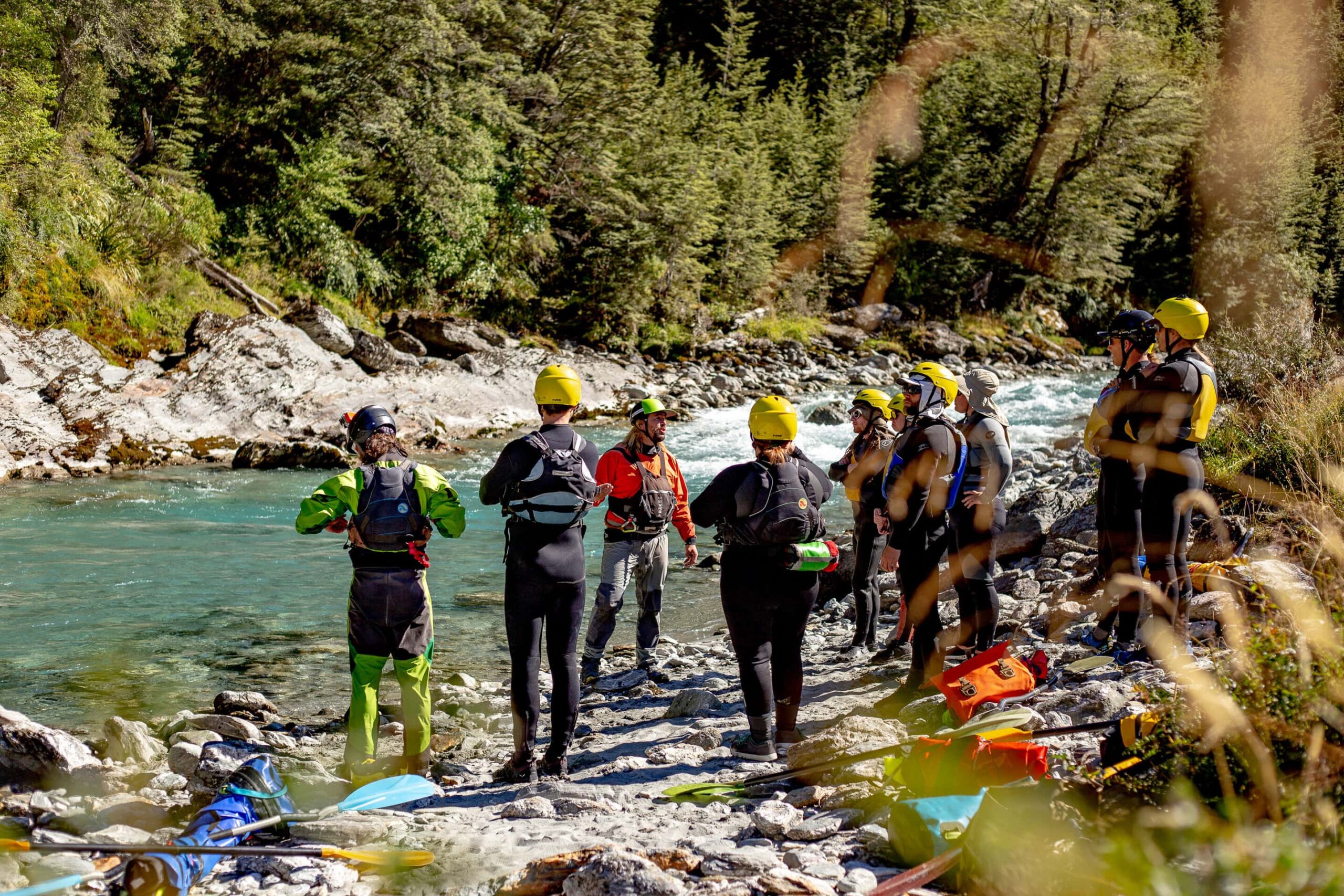 After a morning of grinning like cheshire cats down the rapids, we'll grab some lunch on the banks of the river before the serene float out of the valley to meet our vehicle at the road bridge and making peace with the idea of returning to "the real world".
Forget the apple. This trips is just what the doctor ordered.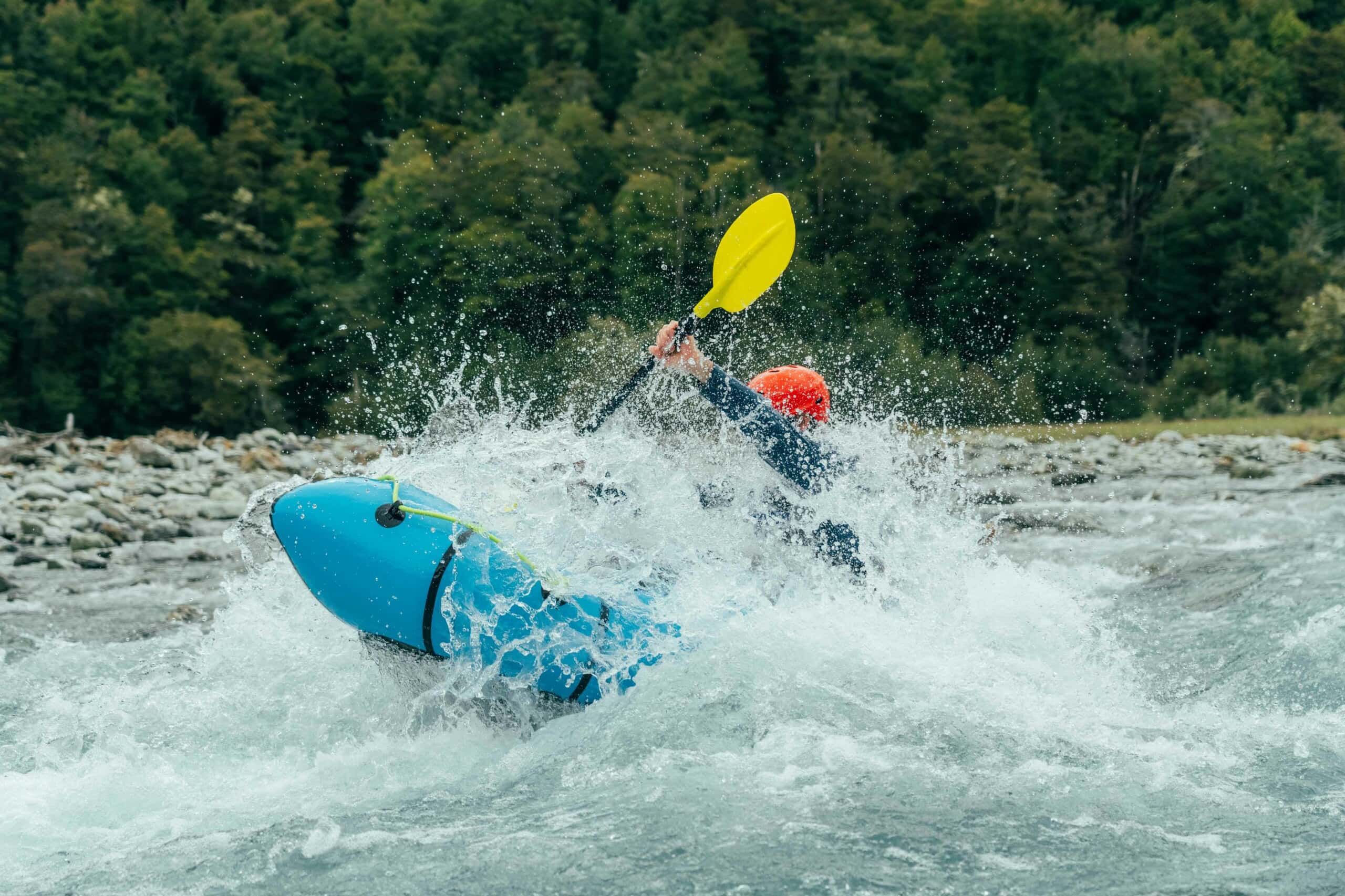 What's included
Transport to and from Queenstown or Glenorchy (self driving is an option if you'd prefer)
All packrafting equipment, backpacks, tents, sleeping bags, wetsuits, paddles, PFD's, helmets etc.
All food (Lunch x2, Dinner, Breakfast)
Camping and river access fees
Fully qualified and experienced guides
Towels
What's not
Any snacks or beverages for the evening that you'd like to bring along
Sense of adventure
Sunscreen, insect repellent, personal meds
Water Bottles (water refills are available everywhere)
Who's this trip for?
No prior experience is necessary, but a reasonable level of fitness is advantageous. We'll do everything we can to make the trip as easy and comfortable as possible, but this is still an authentic outdoor adventure so a good attitude and/or experience spending time in the great outdoors is useful.
The whitewater packrafting section is the highlight of most peoples trip, however it is the technically most difficult part. There is an option to skip this section if this is too challenging for people. Our hope is that this level of adventure, with expert tuition and a fun yet challenging environment is precisely what floats your proverbial boat!
The Details
We've changed our model to work with set departure dates. More often than not we've found small groups (couples or solo travellers) wanting to come out with us on overnighters, however we've needed a minimum of 4 people to make the trip work. To ensure we can accomodate those enquiries, we've moved to a set departure date system. We'll aim to put on regular trips that people can join ahead of time to help us deliver more of these amazing packrafting adventures!
We can still put on trips outside of these set dates for groups of 4 or more, so please get in touch if the dates don't work for your group.