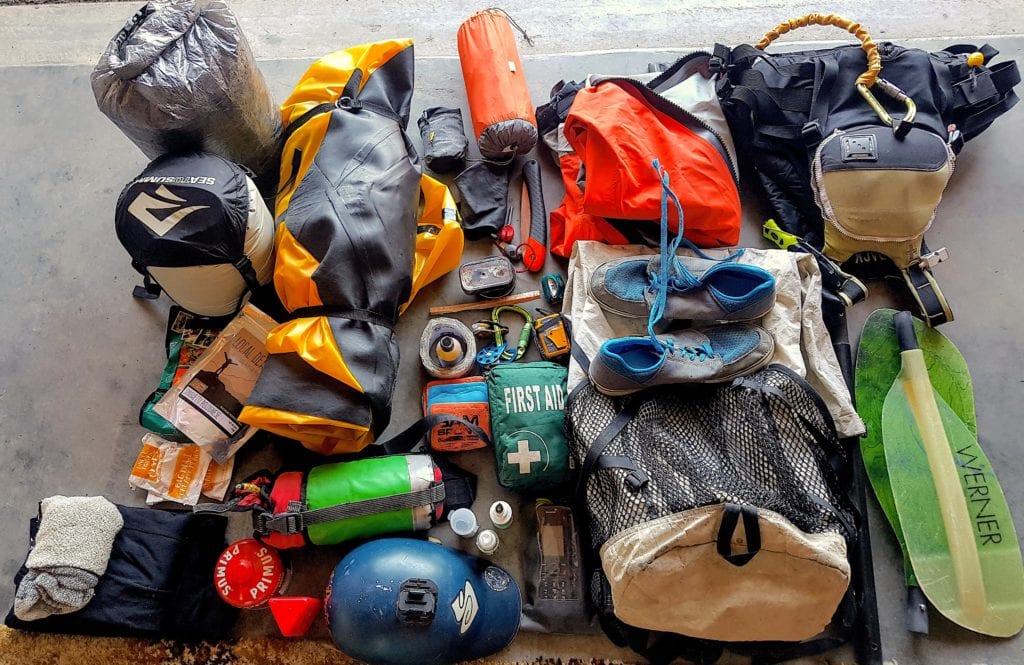 Knowing what gear you need for a new sport/activity is a minefield. You're ready to purchase some shiny new toys, but don't want to buy something only to discover after a couple of trips that it isn't actually fit for purpose. It's tricky. Especially in packrafting. More boats are coming out that are tailored towards different purposes and because much of the clothing and other gear you'll need is designed either for hiking or kayaking, packrafters often find themselves in this awkward middle ground with a foot in each camp. Very little equipment is designed specifically for packrafting so it can be tough to know what you'll need. Cost can be an issue too, so where possible I'll include some cheap and cheerful options. I'll give you a rundown of some things to consider when purchasing your gear. We'll start from the ground up.

There are some overarching themes that you might want to keep in mind when purchasing gear too:
Color: Yellows, Reds and Oranges are easily seen over distances or underwater. Black, White, Dark Blue or Green are the worst.
Multi Use: Since weight (and cost) matters, I preference gear that I can use in multiple different circumstances
Clean Lines: No loops or knots in throw ropes, keep decks and profiles as clean as possible
Weight/Bulk vs Reward: Compromise on comfort, not safety.
Footwear
Water shoes are available that allow water to drain out of them when they're soaking wet and have sufficient grip to keep you upright on slippery rocks whilst attempting portages. I've found that these have been great for hiking in too. If you are looking at doing higher mountain passes on your packrafting missions, you might consider getting some water shoes with a little ankle support too. As a cheaper option, a pair of older hiking shoes (providing they have decent grip like Vibram soles or similar) should do the job fine too, provided you don't mind getting them soaked.
Thermal Layering
The old adage goes: "Dress for a swim", so consider the temperature of the water when choosing what you'll wear to paddle in. Maybe you're in some tropical paradise and the water temperature is in the 20s. Some polypro thermals or merino tops may be all you need. More likely though, the river won't be bath temperatures and you'll need something a little more substantial to paddle in.
Wetsuit
Wetsuits work well, especially as you'll often end up with a little residual water in your boat. Wetsuits will keep your ass from getting too cold, are easy to swim in, relatively inexpensive and pretty hard-wearing. This makes them ideal for most beginners. They add buoyancy and also provide some impact protection. The major drawback is that they're bulky and heavy. Especially when wet. You'll have to think about how you pack a wet wetsuit if you're walking out too. It's also really only a single use piece of kit
Drysuit
A dry suit is lighter and will obviously keep you drier and warmer, especially in really cold water. At a push, you can use a dry suit as your wet weather gear. This might not be all that comfortable to hike in, but can be perfectly serviceable for a wet evening around camp. The drawbacks are that they are more expensive and a small hole can render the whole thing useless. So look after your drysuit! Some drysuits can be just as bulky and awkward to pack as wetsuits. Kokotat are market leaders in dry suits and their Swift Entry Hydrus 3.0 suit is both durable, lightweight and comparatively inexpensive.
Buoyancy Aid
The main thing to consider is: Is it fit for purpose? Does it provide sufficient buoyancy for the water you are intending to paddle. This is an item I see a lot of people trying to save weight with as it is a bulky item but first and foremost it has to perform its function, otherwise what is the point of even taking one?! In whitewater, internationally, at least 75 kn of floatation is the recommendation.
It is also worth thinking about the freedom of movement your buoyancy aid allows you. How easy is it to swim in? Is most of the buoyancy on the front? If so this is it more of a life jacket type design that will float you face up if you're unconscious. It does make it more difficult to swim in though. Where are the storage pockets located? If most of the bulk is front and center, you may find it's harder to perform a wet re-entry. Practice with it to ensure it's going to work for you.
As you progress your paddling, you'll likely step up your safety and rescue skills. As we've touched upon in other articles, there is an unwritten rule in river running: "I'll look after you, you look after me." You should be aiming to upskill to the point that you will be an asset in an emergency rather than simply a compliant casualty so this may necessitate the purchase of a buoyancy aid with an integrated harness and a quick release function. This opens up a world of possibilities. It's hard to look passed the Astral Green jacket or the NRS Zen from this point of view.
There is absolutely no place on whitewater rivers for inflatable buoyancy aids.
Helmet
The main purpose of your helmet is to protect your head from the type of impacts you are likely to receive in river environments. This type of impact will differ from, say, climbing or mountain biking. The mechanics and direction of impact are vastly different. So put simply, don't use a bike/climbing/snowboarding helmet for whitewater. Check your helmet is rated for whitewater use. Think about the color too, as touched upon earlier. If you're lucky you may find a Kong Multi-sport helmet which is rated for bikes, climbing and paddling. My understanding is that they have stopped being manufactured though, so if you find one, buy it quick!!
As a cheaper option, consider WSR. They have been designed very deliberately to keep cost down so that nobody needs to die of a head injury because they couldn't afford an appropriate helmet.
Paddle
The paddle you use can often make a huge difference to your experience on the river, however it's not necessarily the bit of kit you spend most time scrutinizing over when your first start your paddling career.

For packrafting, packability is a big consideration, so a split paddle is definitely the way to go. Four piece paddles are the easiest to pack but two piece paddles can work at a pinch. There's a variety of different materials that paddles are made out of and as a rule you spend more for lighter paddles. There's no need initially to spend hundreds of dollars on a carbon fiber paddle straight away. Provided you've got a paddle that is roughly the right length for you (Hint: you probably need a shorter paddle than you think!) and an offset that feels comfy to you (most typically around 30 degrees) you are going to be onto a winner. The downside to split paddles is that you can get a little play or movement in the joints and this will make your strokes less efficient.

Find something that doesn't wobble too much. Aqua-Bound make cheap and cheerful options, although don't expect it to be the last paddle you'll ever own (hence the nick name, Aqua-Bound to Break). The Werner Sherpa is a really popular option but their Werner Rio paddle is a brilliant cheaper alternative.
Miscellaneous
Whistle: Pealess so that it works when wet. Loud and attached to you somewhere near your mouth. A basic but essential safety and rescue tool.
Knife: Accessible with both hands individually, preferably fixed blade so it's easier operated with one hand. The primary function will but cutting things rather than stabbing things so a sharp edge is more important than a sharp point. A bear claw or similar is great because you can put your finger through the eyelet and are less likely to drop it. My personal favorite is my classic Gerber River Shorty. Great for cutting up your lunch too.
Slings: Carrying a sling gives you options. You can create an improvised harness out of it. You can wrap it around things to create anchor points. It can be used as an extension for extending cows tails, creating a safety line if working near drops, improvised prusiks, rope ascending, vector pulls; the list is endless. My perimeter line on my boat is made of slings too. I've got to have some sort of line there, why not have those lines being multi-functional? Not sure how to use it? Get yourself registered on a course.
Prusik: At least two. This recommendation is based off the minimum amount of kit you need to build a mechanical advantage system. Like the sling, prusiks are incredibly versatile, cheap and multi-functional. You can get creative about how you carry some of these items too. I replaced all of the line that stitch the seats into my packrafts with Prusiks. Whilst it might not be useful in an urgent situation, if you need it, it's there.

I carry a Petzl Basic (Tiblocs are great alternatives to Basics) and a micro traction to allow me to perform the same functions as prusiks. The advantage is that they don't degrade in your buoyancy aid over the years, cannot be tied incorrectly and are quicker to set up. They will also increase the mechanical efficiency of any system you set up. The drawback is that they are more expensive and heavier than prusiks. As a professional I am more likely to be using these items regularly and it may be more critical that any mechanical advantage system I create is built quickly and efficiently; so the cost, for me, is justified.
Flint & Steel: I carry this on me in my buoyancy aid. I'd put it up there as one of the most valuable bits of kit I carry. It goes back to that "dress for a swim" principle. If, in a worst-case scenario, you are separated permanently from your boat on a remote trip, having the ability to light a fire can be a total game changer.
Emergency Communication Device: PLB, Sat phone, SPOT, inReach… whatever you carry, it's worth thinking about where you carry it for the same reason as mentioned above.
Throw Bag: Plenty of options out there. Get one, train how to use it effectively. Feel what different designs are like to throw and from a swimmer's perspective. This is another item that I have seen people make compromises with where they sacrifice functionality for weight. This is not a place to cut corners. Whatever you buy, ensure you are accurate with your throws, it has clean lines and is a thick enough diameter for a swimmer to comfortably throw. Cheese wire is no good to anyone.
Wood Saw: Been a useful thing to have a few times. Sometimes for cleaning up rivers. Sometimes for sawing up firewood in the evenings.
Web Gloves: Spare paddles. Small, lightweight, cheap. Why not?
Take Aways
More important than the right equipment is the training to use it properly. There's no point in getting a rescue vest PFD without the knowledge of how and when to use it. Always think about how you're using your gear too. Are you presenting a nice clean profile?

Above all, scrutinize your gear. There should be a good reason why you've elected to buy and carry the gear that you have so keep revisiting your choices and asking whether they are still working for you in the way that you'd hoped. You don't need to spend the earth on every item straight away. Over the years you'll refine what you carry with you and nothing will teach you this better than experience out on the river.

My one biggest take away from gear selection for packrafting is often centered around compromise. Packrafts are brilliant for self-supported missions, which means you carry everything you need, which in turn means that weight matters. Whilst we can all get obsessive about trying to cut this weight down, always ask yourself what it is that you are losing by saving weight (or money for that matter). As a guide I'd suggest not cutting corners on safety, think about cutting corners on comfort. If you're in any doubt, you can always reach out and ask for some advice.