For years we resisted the temptation to sell equipoment, electing instead to focus the courses and guided trips as the core of the business.
In our industry post 2020 a major buzzword has been "pivot" and that's exactly what we've done. Thankfully we've learnt heaps about the gear we use since our first trips back in 2012. We've done the trial and error so you don't have to.
We stand 100% behind the products and wherever possible we've sourced them locally. We haven't compromised on the gear we use and we haven't compromised on the gear we sell either. If we stock it, it's because we believe it's the best in the market for that particle job.
If there are some bits of gear that you'd like to get your hands on but we don't currently stock, get in touch, chances are we know where you can get hold of it.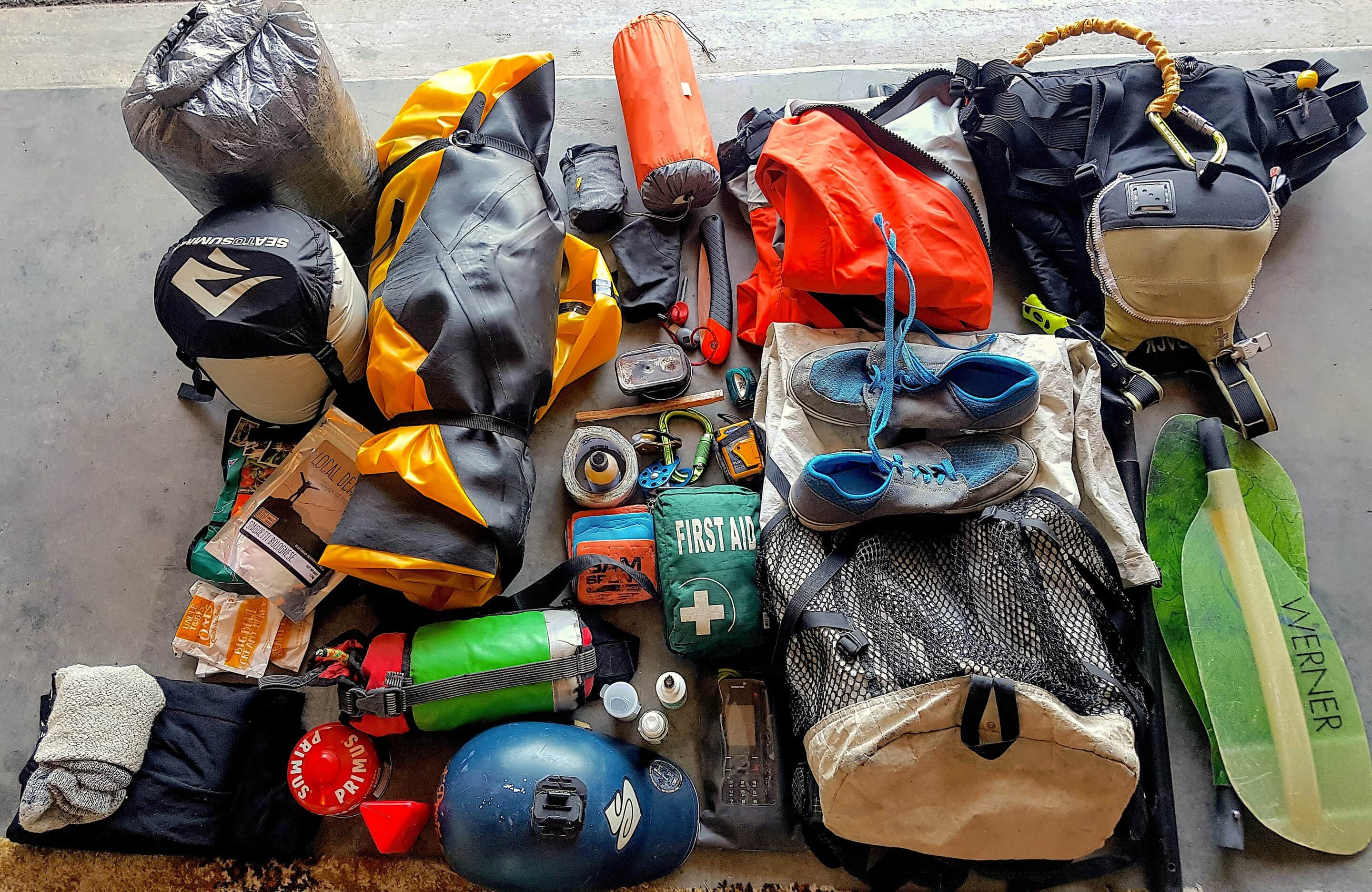 Please note that some items are built to order and there can be a delay in shipping.
Kokatat Supernova Dry Suit
Description
Kokatat have been making some of the best dry suits money can buy for over 40 years. But better than that they come with a life time warrantee so this is literally the last dry suit you'll ever buy.
The supernova comes with all the build quality you'd expect from kokatat but with the added advantage of being the lightest drysuits on the market. The Supernova comes with a neoprene neck gasket for added durability and comfort and a relief zipper for when you gotta go.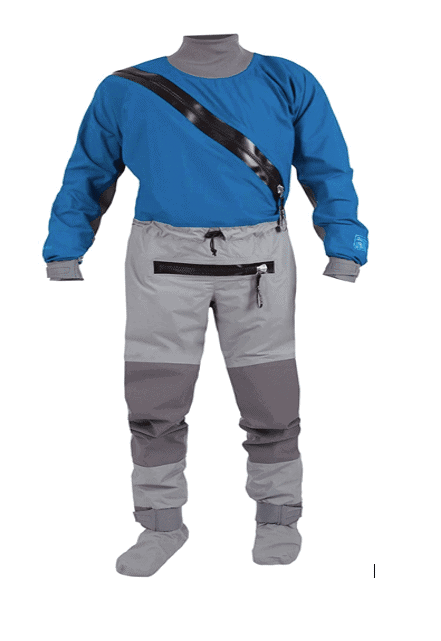 Technical Specs
• Hydrus 2.5 waterproof, breathable fabric
• Neo cinch collar
• Latex wrist gaskets with "hook & loop" adjustable neoprene over-cuffs
• Hydrus Tough seat, knee and elbow reinforcements
• Inseam gusset
• Adjustable bungee drawcord waist
• Factory sealed seams
• Integrated Hydrus 3.0 socks with "hook & loop" adjustable neoprene over-cuffs
• Nylon waterproof zippers
• Competition cut underarm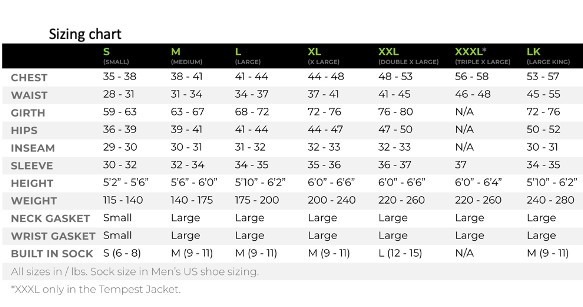 Kokatat Hydrus Swift Entry Dry Suit
Description
Not only is this the lightest drysuit on the market, but it is also one of the most affordable and highest quality. It's a no brainer. Can be ordered without the socks and relief zipper if you're looking for lighter options.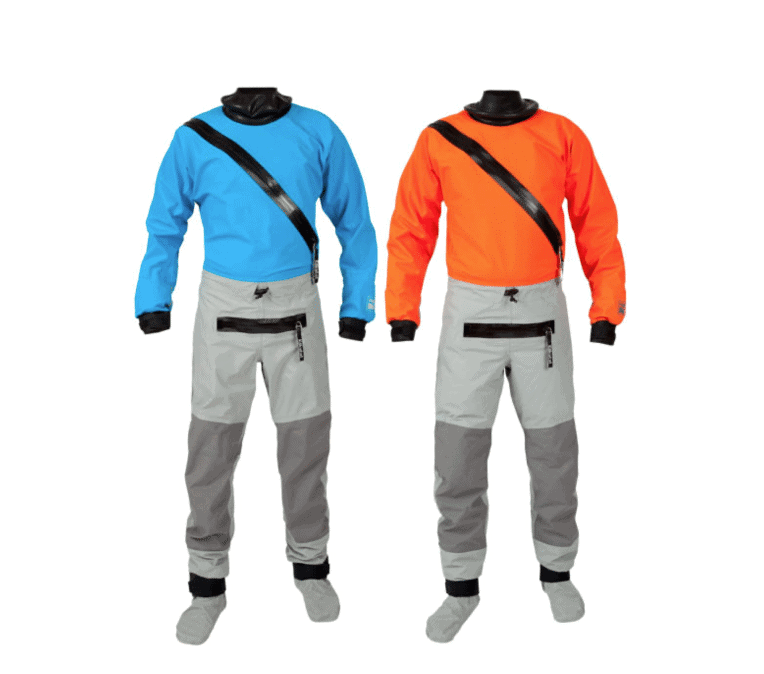 Ladies' versions can come with a drop seat instead of the relief zipper. The 3 layer Hydrus material offers bombproof waterproofing, durability, and breathability. Nobody ever regrets buying a dry suit.
Lifetime guarantee and peace of mind knowing you've bought a seriously Gucci piece of kit.
Technical Specs
• Hydrus 3.0 (3 layer) fabric
• Nylon waterproof front entry zipper
• Nylon waterproof front relief zipper
• Hydrus 3.0 (3 layer) socks
• Latex neck gasket
• Latex wrist gaskets with adjustable "hook & loop" cuffs
• Adjustable bungee drawcord at waist
• Hydrus Tough seat and knees
• Every suit 100% fill tested; guaranteed to be dry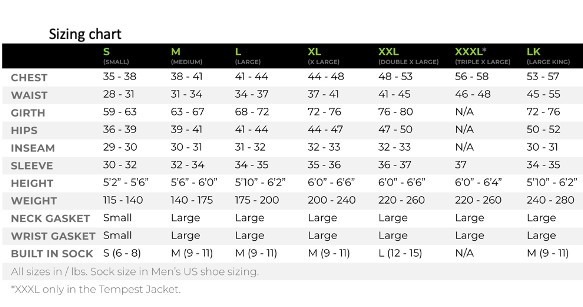 Description
Watershed Drybags are the best dry bags in the world. Not your standard roll-top dry bag that might keep your gear dry, these bags are submergible, used by the US military, and all of your favorite packrafters.
This bag has been designed with mobility and versatility in mind. A waist band means it can be easily carried or strapped to a backpack during the hiking phase of your journey or strapped to your boat as a bow bag (or stern bag). Great for your keys, camera, clothes, and brew kit. Imagine how awesome this would look on the front of your bike too.
When buying kit, I'm always draw to items that are multifunctional. Whilst there is no doubt that bow bags are a brilliant addition to packrafting, a watershed dry bags as a stern bag has so many more uses. For me that's why it's a huge win.
Technical Specs
Dimensions Rolled: 23cm Height x 41cm Width x 18cm Depth
Capacity Rolled: 640 cu in (10.5L)
Closure Type: ZipDry®
Opening Size: 33 cm
Weight: 680 grams
Watershed Animas Dry Bag
Description
The ultimate in hassle-free backpack set up. Ideal for shorter trips with enough space for a packraft, wetsuit, helmet, lunch, paddles, and everything else you might need on a day trip. Best of all though you can strap it straight to the front of your boat and not have to worry about anything getting wet. The ultimate in peace of mind and convenience.
As with all watershed dry bags, this is 100% waterproof, super hard waring and used by the military in 'Murica.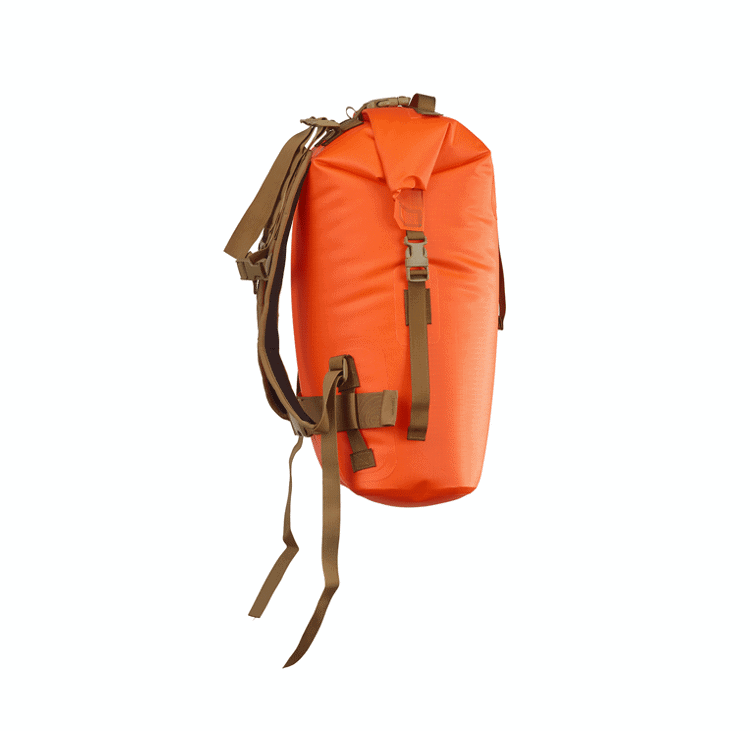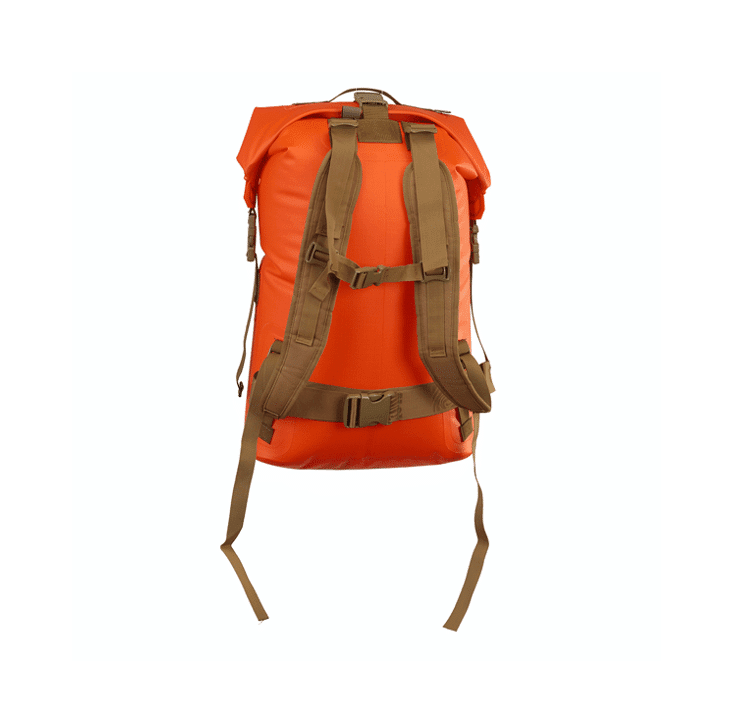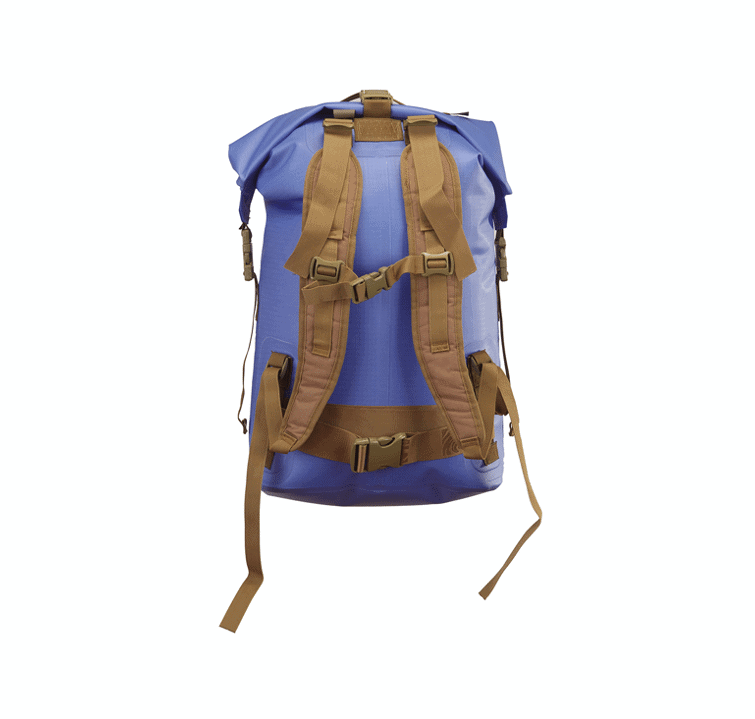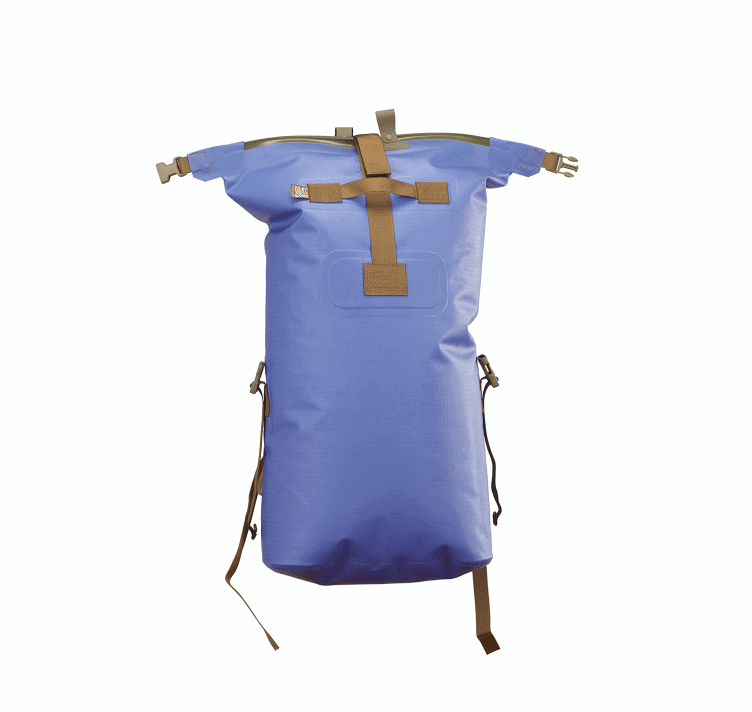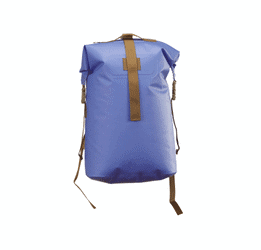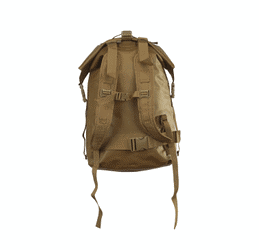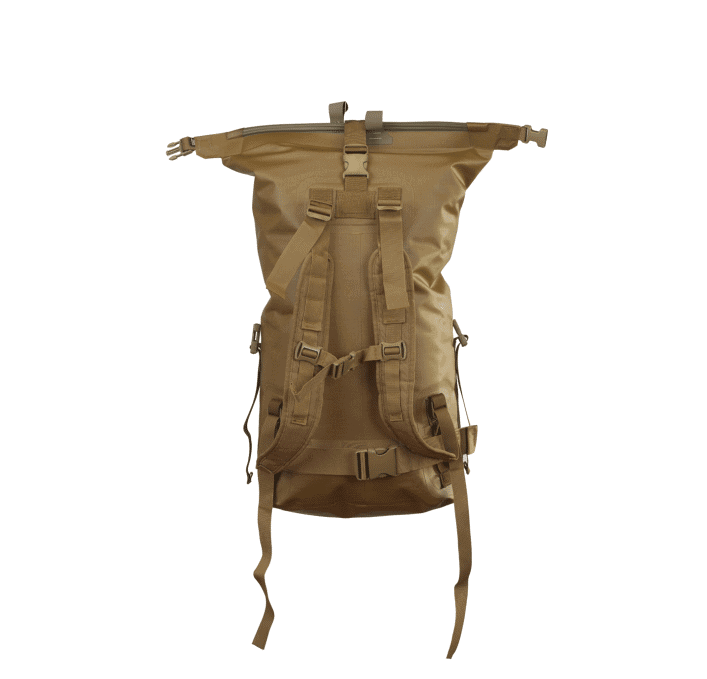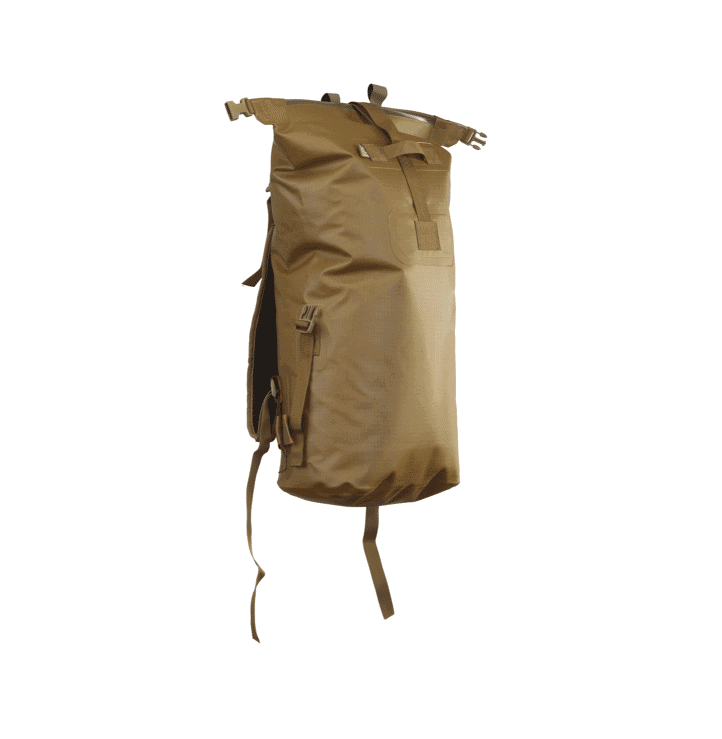 Technical Specs
Dimensions Rolled: 56cm Height x 35.5cm Width x 18.4cm Depth
Capacity Rolled: 2432 cu in (40L)
Closure Type: ZipDry®
Opening Size: 40.6 cm
Weight: 1066 grams
Description
Dissatisfied with the popular ultralight backpacks, we started researching something better. Let's start with the downsides. It weighs 255 grams more than alternative Hyperlite bags (about the same weight as a packet of crayons). Now the upside, it's 5 liters larger, has larger functional side pouches, hip pockets that you can actually fit things in, a bungee strap to dry wet gear as you hike, more durable material, and DOUBLE straps on top to hold your packraft in place. Oh, and it's $150 cheaper.
Description
The choice of the professional. A throw bag is a piece of kit where functionality trumps any other feature. This bag deploys with ease and can be replaced back into the belt without a fuss. Clean line principals have influenced every aspect of the design with a secluded carabiner pocket and quick release function on the belt. The wide aperture on the bag allows for easy repacking and the reflective strip, glow stick attachment points and 10kn 8mm rope makes this ideal for professionals.
Technical Specs
Construction: 7.8mm 18m (cca 5/16inch 59feet) floating rope
core: Polypropylene
Cover: Polypropylene/Polyester
Tensile Strength: cca. 15 kN/3300lb (1500kg)
Knotted Tensile Strength: cca. 10 kN/2200lb (1000kg)
Weight: 605g / 850g incl. waist carry system